The Holiday Spirit in Ottawa Lives Here
Located in the Aberdeen Square while surrounded by snow-capped heritage buildings and wooden chalets is the Ottawa Christmas Market presented by TD. Thousands of Christmas lights and decorations twinkle and sparkle to create that festive atmosphere that is accompanied by holiday entertainment, local flavours, and, of course, some holiday shopping!
We will have over 35 local vendors attending the Ottawa Christmas Market. There will be a wide range of shopping options available that includes holiday gifts, traditional Christmas themed items, unique food, and beverage options and much more! Grab your shopping bags and join in on the fun.
16 days of Entertainment & Programming
This year we will have a full schedule of programming for all ages! Take in the holiday lights and decorations, check out our favourite local artists on Casino Lac-Leamy Stage, take your chances at winning big on the Casino Lac-Leamy Advent Calendar and of course, do not forget to visit Santa in Santa's Village.
Santa's Workshop presented by Interac
®️
For the second year in a row, we will be offering free crafts for kids in Santa's Workshop presented by Interac ®️. Santa's Workshop presented by Interac®️ turns into Christmas Cocktails and Crafts! Grab your friends and enjoy craft making while enjoying local Food and beverages.
Nov 25 – 27
Hours
Fri 5 pm – 10 pm
Sat 10 am – 10 pm
Sun 10 am – 8 pm
Dec 2 – 4
Hours
Fri 5 pm – 10 pm
Sat 10 am – 10 pm
Sun 10 am – 8 pm
Dec 9 – 11
Hours
Fri 5 pm – 10 pm
Sat 10 am – 10 pm
Sun 10 am – 8 pm
Dec 16 – 18
Hours
Fri 5 pm – 10 pm
Sat 10 am – 10 pm
Sun 10 am – 8 pm
Dec 20 – 23
Hours
Tue & Wed 2 pm – 8 pm
Thu & Fri 2 pm – 10 pm
We help local businesses connect to customers during the busiest time of the year. In 2021 we had over 75,000 visitors from across Ontario and Western Quebec who engaged with 35+ amazing vendors, on-stage entertainment and, of course, visits with Santa.
We expect up to 100,000 visitors in 2022 with our expanded programming, more cabins for vendors and enhanced senses including lights, sounds, smells and tastes.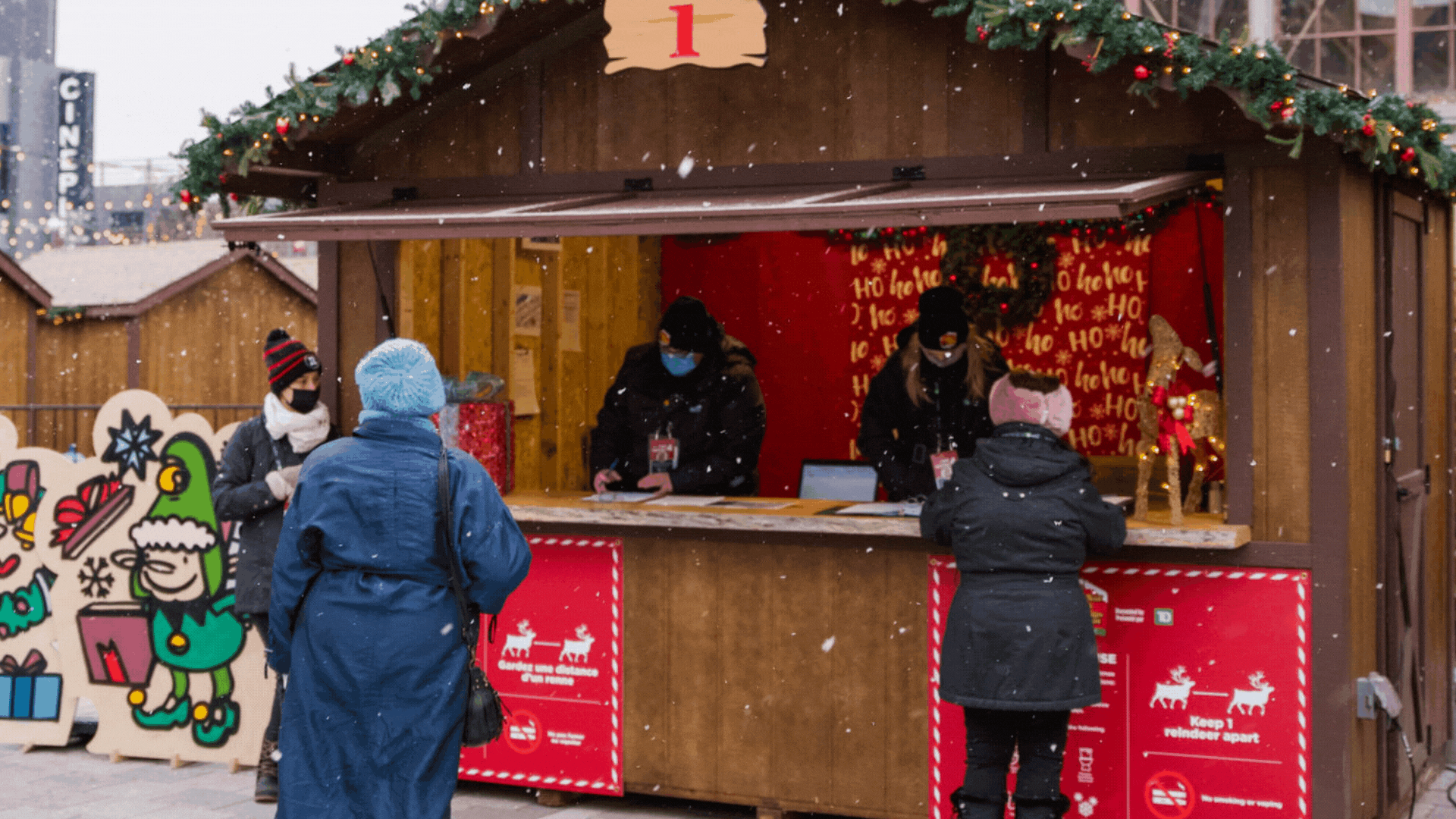 Our first Christmas market was 2021 and we can't wait to be a part of 2022! We were blown away, week after week by the success of the market and the amazing attention our small business received. The entire OCM team are beyond accommodating and a blast to be around. The variety of businesses, activities and live performances drew big crowds every day and made it an amazing experience!
We loved being a vendor at the OCM. The OCM staff were super helpful and organized from a pre-show walkaround and information session, to daily news and onsite information making our days run so smoothly. There was always a staff available for questions and walking around with a friendly hello. The market itself was amazing. from great advertising, fun activities, super family friendly, a fun mix of vendors and of course, delicious food and drink.
I am delighted to take part in the upcoming market 2021!! My experience was spectacular, from the decor, the ambiance, the entertainment of the market and the staff gave us a magical experience, a wonderful opportunity of shopping for great product right here in the Capital.